---

"The true economy of housekeeping is simply
the art of gathering up all the fragments, so that nothing be lost. I mean fragments of time, as well as materials."

Writer and social reformer Lydia Child The Frugal Housewife 1829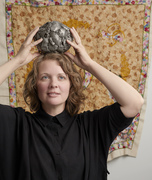 Photo Credit: Adam Krauth
---
I am mother and the keeper of time in my family. Daily schedules as well as the memory and record of fleeting moments are both in my care. The daily tending that comes with caretaking wrestle in my work as both grinding banality as well as worthy of celebration.
I have an ongoing habit of saving the styrofoam inserts from things I purchase for my home. Though the objects have long departed the comfort of the polystrene and box, the inserts continue to hold their impressed object as physical memory. It is a memory fraught with my internal conflict of being a steward of the needs and wants of a growing family with that of environmental impact. In the ongoing series,
Building a Home,
the play barn precariously leans against the humidifier and the umbrella stand base rests on the bunny nightlight, speaking to the physical dependency of the comforts of objects with the consequences of conspicuous consumption.
Pewter and styrofoam make unlikely bedfellows, as pewter carries the sentiment of commemoration while styrofoam is assumed to be a disposable material and easily forgotten. Yet, pewter ironically replaces polystrene only to share the same material life span (500 years or more).
I often generate a re-framing of the familiar in my work. I find humor in the image of a teddy bear, lounging in an overstuffed chair sipping tea in slippers, as a keychain. Does this keychain beget a longing, in the time away from home, for that very moment of leisure and peace?
As it comes to bear
re-imagines a wayward capitalist understanding of productivity and production. The image of a lounging teddy bear leisurely emerges out of a sheet of metal, falsely yet defiantly showing how key chains are made - they just exist.
As
a quiet protest to the expectation for efficiency and completeness, the series
Piecing Together
celebrates value in process. Each wall panel is sourced from incomplete embroidery and hooked rug projects I purchased on E-Bay. Stitching together moments of care and attention, the embroidery framed within tablecloths and runners connect each of the maker's labor at their place of pause.
My work plays with conflicting narratives of time, witnessed in material culture and in my own role as a caregiver. Historically, the most revered metal wares were designed and made by men and cleaned and cared for by women. As a way to center the labor, activity and emotions that makes up much of home life, the pewter sculpture series
The gradual gathering of something
uses the orange peels left behind by my children's perpetual eating. The hopper ball toy, deflated by use yet still holding shape, embodies the psychological toll in caring for children during a pandemic. My work becomes a witness to moments in time and a keeper of the times.
---

CV

EDUCATION

2009 Master of Fine Arts - State University of New York at New Paltz, NY

2004 Bachelor of Fine Arts - University of Wisconsin-Madison, WI

Fall 2004 Study Abroad - University of Legon, Ghana, West Africa

SOLO AND TWO PERSON EXHIBITIONS

2020

In a state of becoming

The Groton School - Groton, MA (postponed)

2018

Next after the first in order, place and time

The Metal Museum – Memphis, TN

2015 Welcome Home Works by Venetia Dale and Stacey Webber - Find and Form Space - Boston, MA
2014 Venetia Dale: New Works, Room 68 - Provincetown, MA
2013 Two Generations, One Dialogue show with Lisa Gralnick, James Watrous Gallery - Madison, WI
2012 Ball chain, shower caddies and other observed things with Kristi Sword, 92nd Street Y Tribeca Gallery - New York, NY
2011 Itinerant Goods, The Soapbox Gallery - Brooklyn, NY Objects for Objects, Villa Terrace Decorative Arts Museum - Milwaukee, WI
2009 same, same but different, Fiskum Gallery University of Wisconsin- Whitewater - Whitewater, WI
2004 sight...seen, Studio Quest - Madison, WI

SELECTED GROUP EXHIBITIONS
2020 AMEND (Oniine Exhibition)
2019 Reliant Objects II- Illington Kerr Gallery - Alberta Canada
Masters in Metal- Lauren Rogers Museum - Laurel, Mississippi
2018 Women to Watch 2018 National Museum for Women in the Arts - Washington D.C.
Reliant Objects Oregon College of Art And Craft- Portland, OR
Boston does Boston Proof Galery - Boston, MA
2017 Constructed Realities Lincoln Art Projects - Waltham, MA
Making Our Mark Bellevue Arts Museum - Bellevue WA
Directions Brant Gallery MassArt- Boston, MA

2016 Facsimile room 83 Spring Watertown, MA (curated by John Anderson)

Micki Lippe: Mentoring as Art Waterworks, Friday Harbor, WA

2015 M3 making material matter Gallery 224 Cambridge, MA (curated by Jamie Bennett and Anat Shiftan (upcoming)

Trade Routes Proteus Gowanus - Brooklyn, NY curated by Susie Silbert and Tammy Pittman)

2014 It is a door and a window that makes a room useful SOIL Gallery - Seattle 2013 Telephone Satellite Collective - New York, New York

Heirlooms, Racine Art Museum - Racine, WI
2012 Urbanity, Urban Institute for Contemporary Art - Grand Rapids, MI
2011 Beyond Useful and Beautiful: Rethinking Domestic Craft (curator: Anna Walker), Houston Center for Contemporary Craft – Houston, TX
Relatives, Galerie Noel Guyomarc'h - Montreal, Quebec
Miami University Young Sculptors Competition, Hiestand Galleries - Oxford,OH
Ethnographic Terminalia, Eastern Bloc Centre for New Media and Interdisciplinary Art – Montreal, Quebec Common, Georgetown Community Arts Center – Seattle, WA
"Dear Japan" Project, Art Connects New York Gallery – New York, NY
2010 Here and Now and Then, UW Alumni Show, Artists Lofts - Madison, WI
OCAC Artist in Residence Exhibition, Hoffman Gallery – Portland, OR
Borders, Roots Division – San Francisco, CA REFINED VI: Back to Basics, Reavley Gallery at The Cole Art Center- Nacogdoches,TX Extreme Beauty (curator: Kim Cridler) Glassell School of Art, Museum of Fine Arts Houston - Houston, TX
2009 to be: (determined), Hatton Gallery, Colorado State University - Fort Collins, CO
500 Enameled Objects Show (curator: Sara Perkins) Velvet Da Vinci Gallery - San Francisco, CA
Surfacing: 8th International Juried Student Enamel Exhibition Oakland Art Gallery - Oakland, CA
Touchmarks: The Social Life of Plastic Baskets, MFA Thesis Exhibition Samuel Dorsky Museum of Art - New Paltz, NY

AWARDS, GRANTS AND RESIDENCIES
2019 Polly Thayer Starr Artist Series Visiting Artist - Isabella Stewart Gardener Museum - Boston, MA
2015 Emerging Artist Platform Award - Sienna Gallery
2013 Kohler Company Art/Industry Residency – Kohler, WI
2011 Wisconsin Artists Biennial Merit Award, Anderson Art Center – Kenosha, WI Support for Undergraduate Research Fellows Award, UW-Milwaukee, WI
2010 Oregon College of Art and Craft Residency - Portland, OR
Collins Foundation Grant - Portland, OR
2009 Metal Arts Guild Grant, Bay Area Metals Guild – San Francisco, CA
Outstanding Graduate Honor, SUNY New Paltz – New Paltz, NY
2008 Research and Creative Projects Award, SUNY New Paltz– New Paltz, NY Student International Travel Grant, SUNY New Paltz – New Paltz, NY
Barbara McFadyen Merit Scholarship, SUNY New Paltz – New Paltz, NY
2007 Barbara McFadyen Merit Scholarship, SUNY New Paltz – New Paltz, NY
2003 Betty J. Frazier Scholarship, University of Wisconsin – Madison, WI
2002 Elizabeth Sewell Scholarship, University of Wisconsin – Madison, WI

CURATORIAL PROJECTS
2011 Relatives (co-curator: Sarah Troper) Galerie Noel Guyomarc'h – Montreal, Quebec
Exhibition in Motion (co-curators Stefano Catalani and Tia Kramer) Bellevue Arts Museum – Bellevue, WA

PROFESSIONAL EXPERIENCE
2014/2013 Visiting Reviewer, Rhode Island School of Design - Providence, RI
2012 Visiting Critic, MassArt Spring Review Boards – Boston, MA
2010 Faculty Reviewer, UW-Milwaukee Fall Graduate Review, Milwaukee, WI
Guest Critic, University of Oregon- Eugene, Eugene, OR
2009 Guest Critic, University of Wisconsin- Whitewater, Whitewater, WI
2008 Travel and Research Lima and Urubamba Valley, Peru
2006 Travel and Research Shanghai, China and Various Areas of Southeast Asia
2004 Apprentice Gracia's Batik Shop - Accra, Ghana

PUBLIC LECTURES AND WORKSHOPS
2016 Workshop Instructor Penland School of Crafts - Penland, NC
2014 Emerging Artist Talk SNAG conference Minneapolis, MN
2013 Visiting Artist and Critic Maine College of Art - Portland, Maine
2012 Artist Talk and Demonstration MassArt Metals program – Boston, MA
2011 Panel Presenter The Arts: Catalyst for Caribbean Development
Edna Manley College Rex Nettleford Arts Conference – Kingston, Jamaica
Curatorial Talk Montreal School of Jewelry – Montreal, Quebec
Gallery Talk Villa Terrace Decorative Arts Museum – Milwaukee, WI
Workshop Instructor Penland School of Crafts- Penland, NC
Visiting Artist and Workshop Instructor Edna Manley College - Kingston, Jamaica
Artist Talk University of Wisconsin-Madison - Madison, WI
2010 Workshop Assistant Penland School of Crafts - Penland, NC
Form/ Fab (Instructor: Myra Mimlitsch-Gray)
Visiting Artist and Critic University of Oregon-Eugene - Eugene, OR
Artist Talk Oregon College of Art and Craft - Portland, OR
2009 Gallery Talk University of Wisconsin-Whitewater - Whitewater, WI
Workshop Assistant Penland School of Crafts - Penland, NC
Upcycling (Instructor: Arthur Hash)

REVIEWS, CATALOGS, MEDIA
2020 Michelman, Elizabeth. "Dale's State of Becoming: Balancing Sculpture and Embroideries in Groton" Artscope Magazine 2018 Arginteanu, Judy. "Metal Meets its Match at The National Museum of Women in the Arts" American Craft Council Blog July 24, 2018
Dingfelder, Sadie. "In 'Heavy Metal', female sculptors take on traditional masculine materials" The Washington Post Express July 12, 2018

2014 Graves, Jen. "The Empty, Locked Buildings on Magnolia Bluff" The Stranger Blog Aug. 29, 2014

Houton, Jacqueline. "P-Town Bound" Improper Bostonian May 14-27, 2014

2011 American Craft Zoom Oct/Nov 2011 p. 29 Malcolm, Dervan. "Both Sides of the Story" (radio interview) Power 106 FM October 14, 2011, Kingston, Jamaica.

Deliso, Meredith. "The Most—and Least—Useful Items in "Beyond Useful" at Center For Contemporary Craft" Houston Press Blog, October 11, 2011.
Moriarty, Judith Ann. "Summer Scenes: Transformative" Third Coast Digest.com, Arts and Culture section, September 9, 2011.
Murrell, Kat. "Objets D'Art" Wisconsin Gazette: Art Gaze July 28, 2011.
Art Talk. "Venetia Dale @Villa" Express Milwaukee.com: Blog July 13, 2011 Clearwater, Cynthia. "Focus on the Future" (interview) Metal Arts Guild Guildletter April 2011, San Francisco.

Editor. "China, US and Jamaica connect through art" Jamaica Sunday Herald Newspaper: Pure Class, February 13, 2011.
2010 "Borders" (exhibition catalog) published by Roots Division, San Francisco,
2009 Gardiner, Matt. "Metal work featured at Fiskum Art Gallery" The Royal Purple UW Whitewater, October 14, 2009